In this post I describe why my experience in 1995 on the PCT, and with Wild author Cheryl Strayed, plays in important role in how I intend to proceed along the CDT north of here and into Colorado. In a way, this is my personal drama for 2016, and I am confident that my chosen path is the right one.

On Thursday, May 26 I descended a partially snow-covered CDT from New Mexico and across the state line to the southern edge of Colorado at the 11,010 foot Cumbres Pass. It marked the completion of the New Mexico portion of the trail, and I was happy to finish the state known as the Land of Enchantment. The state was beautiful and diverse, and my thru-hiker friends and I were touched by the generosity and kindness of numerous people who helped with water, food, directions, advice, or simple friendliness. For those reasons I am sad to leave New Mexico. However, the list of mishaps, injuries and other casualties is long, and I could have been justified to happily say goodbye to New Mexico. But really, these things were not unexpected:
1. Broken camera (replaced with a new and improved Nikon)
2. Cuts on legs, arms, thumbs (healed now, but I am not a fan of barbed wire, for sure)
3. Torn pants leg (repaired)
4. Infected toe on left foot (caused by jamming the toe against a bathroom door in Lordsburg BEFORE I started hiking on Day 1; obtained medical treatment on May 27)
5. Sore right foot – and still limping (treating with Arnica)
6. Muscle cramps at night (took advice from CDT hiker PegLeg and am taking magnesium supplements)
7. Three pairs of shoes that either wore out prematurely, did not fit, or caused injuries (see #5)
I would guess most of my fellow thru-hikers have a list just as long. There is a bright side, however. The small, mountain village of Chama is the perfect place to let injuries heal and get ready for the next state, Colorado. I am staying at the historic Foster's Hotel in Chama, where my room looks like a Hikertrash used equipment sale! The home-made brownies baked and shipped to me by my lovely wife Cindy back in Portland makes my little place feel like home! Watching baseball games on satellite TV helps, too, especially while eating those delicious brownies! But I wish Meadow Ed was here in Chama to cook up some hamburgers on a grill and deliver coffee to me in the morning!
Here's the thing: in the past few days only a handful of CDT hikers have successfully traversed the next segment of the trail from Cumbres Pass to Wolf Creek Pass, a 65-mile segment that, as far as I can tell from reading various accounts on Facebook, entirely buried in snow. Others tried, and turned around because they could not hike enough miles per day to make their food rations last until reaching the next highway and hitch to town. Or, they did not have the right gear to match the conditions (snowshoes, warm clothes, etc.). I suspect some of those hikers were not mentally prepared to deal with it. This is what El Nino does to thru-hikers.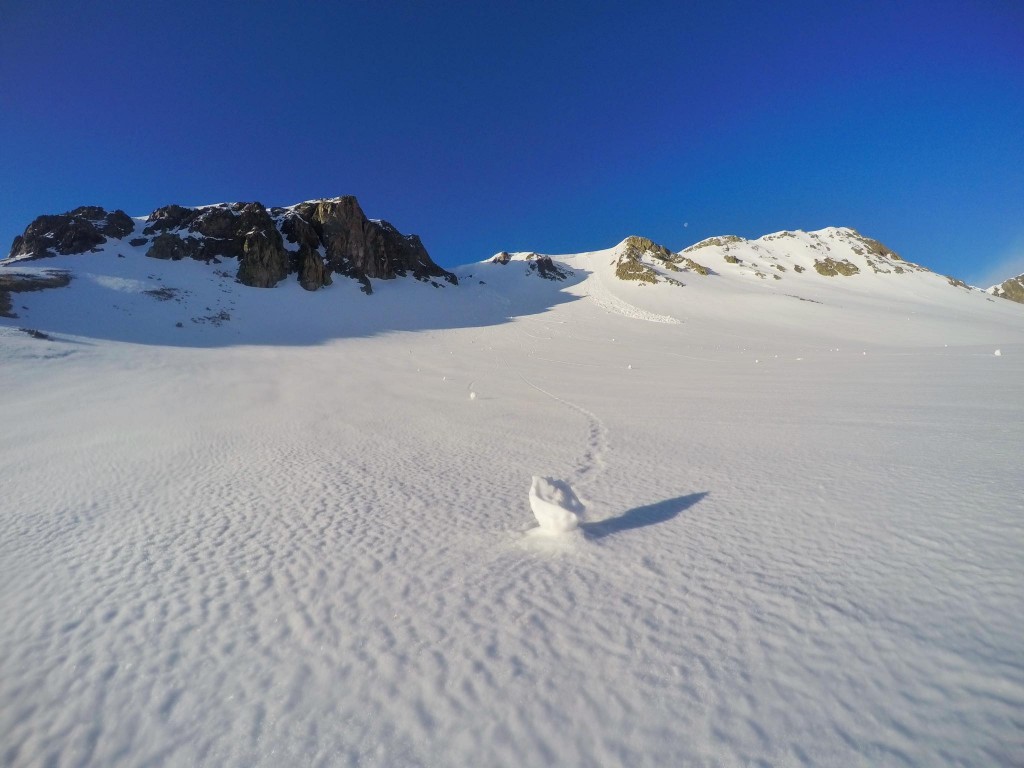 This drama appears at times to be great copy for a reality TV show, and reminds me of my attempted thru-hike of the Pacific Crest Trail in 1995. In that year, while planning and preparing for the 2,650-mile journey on the PCT, I monitored the weather and snowpack reports for the Sierra Nevada in California. One snowstorm after another piled more and more snow upon the mountains. I was concerned about the prospect of hiking through the Sierra in deep snow because I had no familiarity with the PCT in those mountains. I worried, "would the creeks in the Sierra be impossible to ford with all that snow? Could I navigate the passes (no GPS in those days)?" Once I was on the trail in May of that year, the rainy, chilly weather gave the high desert foliage a lushness that I never expected in southern California. In the San Gabriel Mountains a light snow fell in June! The snowmelt had not started even though I was just a couple of weeks away from entering the southern Sierra Nevada. Among PCT hikers approaching the same Sierra Nevada, rumors and speculation ran rampant as information and misinformation was passed from hiker to hiker.
On June 24, 1995 I met Cheryl Strayed on the PCT just south of Kennedy Meadows. "The Sierra are totally socked in, nobody is getting through", I declared in words that reflected more concern than confidence. I am not sure those were my (I mean Greg's) exact words, but please watch the movie Wild and you will get the idea that I was pretty spooked about the snowpack. A few days later at Kennedy Meadows I suggested one of several options to Cheryl: skip the Sierra, take a bus up to Sierra City, and hike from there to the Columbia River. At the moment I was not sure what I would do: flip-flop the Sierra or join Doug and Pete through the snowy mountains? I made my decision a few days later at a trailhead picnic table at Trail Pass in the Sierra Nevada, where Meadow Ed cooked up a great meal for Cheryl, Doug, Pete and me. Cheryl made her decision, too, and it was a good one. I joined Cheryl Strayed on a bus trip to Truckee, California and ultimately to Sierra City, where I would hike northbound to Canada and later return to the Sierra Nevada to complete my hike of the PCT. Cheryl Strayed, as we all know, hiked to the Bridge of the Gods above the Columbia River, wrote and published Wild 17 years later, and her place in literature, film and long distance hiking was firmly established. My journey on the PCT that summer of 1995 was not what I intended at Kennedy Meadows. I recommend reading an article I wrote for the Pacific Crest Trail Association in 2015 (spoiler alert: I changed my mind about the flip-flop, did not hike the entire PCT in 1995, but ultimately fulfilled my dream of thru-hiking the PCT): I am Greg; the first-person story from WILD
Back in the present 21 years after 1995, this time on the Continental Divide Trail, the situation is awkwardly similar. I am hiking a National Scenic Trail during a year when El Nino weather conditions dumped a larger than average snowpack in the Colorado Rocky Mountains and slowed the melt of that snow with storms and colder than average temperature in the month of May. The data regarding the CDT snowpack is easily available on any smartphone, but speculation as to the real conditions and risks of hiking the CDT north of Cumbres Pass in 2016 is running rampant. In the internet age, Facebook is the conduit (with written descriptions, photos, comments, reactions, warnings, success stories, more warnings, and comments by hikers who are leaving Chama and flipping north to Wyoming or Montana to avoid the snowy Colorado CDT). I pay attention to this, but am influenced more by my sense of self-confidence than on the words of others.
I am staying in Chama, New Mexico for seven full "zero days" to let the injuries heal (#4 and #5, above), and decide what I am going to do regarding my CDT thru-hike: Push through the snow-packed mountains between Cumbres Pass and Wolf Creek Pass, or flip-flop to Montana and hike southbound?
My dream for the CDT has always been to hike the trail north from Mexico to Canada without flipping and riding Greyhound buses which would break the continuity of the hike. I want to witness the gradual, natural changes in the landscape and climate as I hike northward, and finish the 2,800 mile hike at Waterton Lakes National Park in Canada. To make the dream a reality, I prepared diligently for the Colorado portion of this CDT hike, including gear that will contribute to a safe and relatively comfortable traverse of the snow-packed mountains along the divide. I will draw on my backcountry snow-travel experiences, and believe in my dream, one footstep at a time.
I will team up with two very experienced hikers from the Pyrenees region in France, Paul and Chantal. We will depart Chama on Friday, June 3, 2016 and hike northbound on the CDT.  It will take six or seven days to arrive at Wolf Creek Pass, 65 miles north of Cumbres Pass.  The pace will be slow, perhaps ten miles per day. I embrace the challenge, and can't wait to witness the beautiful, snowy mountains along the way in what is forecast to be favorable weather conditions. Departing after one week of rest and healing is the best choice. The hike will be hard, even hazardous at times, and possibly the hardest week of hiking I will have ever done. I am confident.  Let the drama begin!