I enjoyed a 25 mile day hike on July 15 inside Rocky Mountain National Park where the official CDT route makes a nice loop up to Flattop Mountain (12250′).  It was on Flattop where I hiked in 1977 with my brother Brian, and my first serious mountain hike at 23 years old.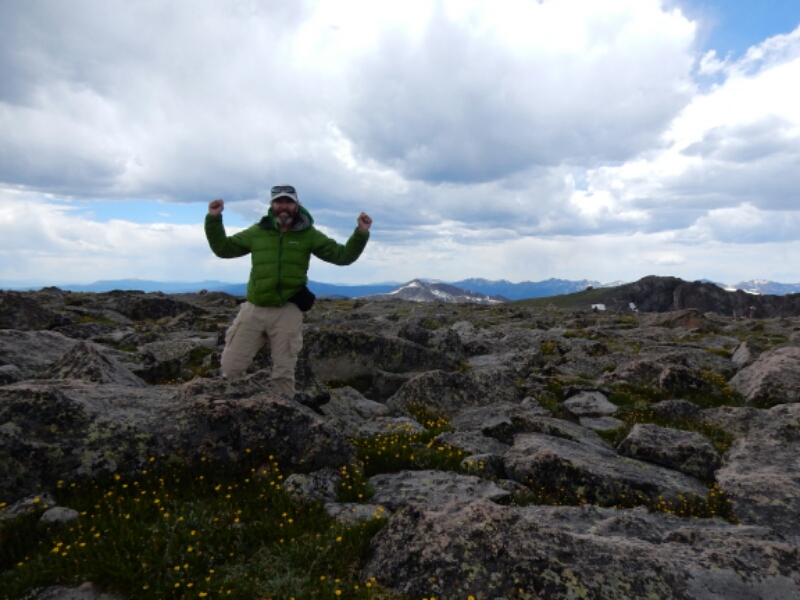 Above: on the summit of Flattop Mtn, reprising my summit pose of 1977.
I had been disappointed at the lack of wildlife sightings since starting the hike in New Mexico 89 days ago.  That changed while descending Flattop.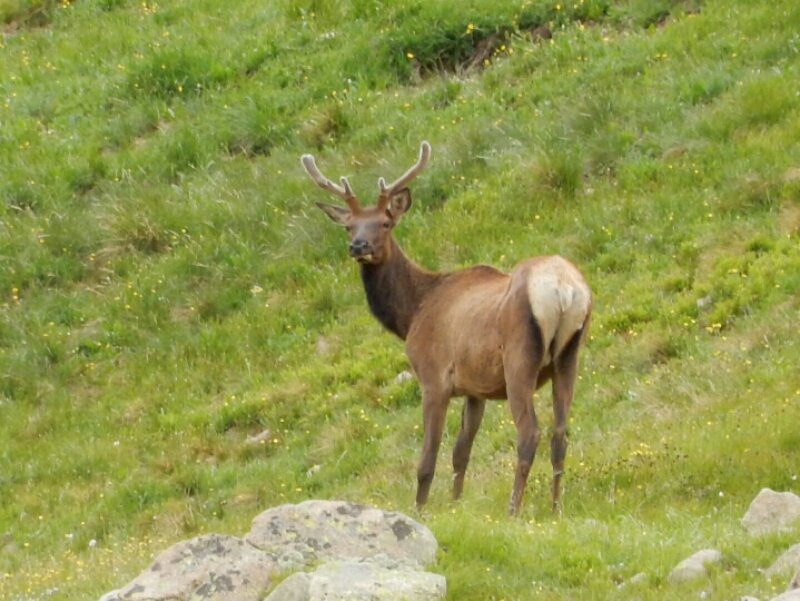 Above: Elk in Rocky Mtn. N.P.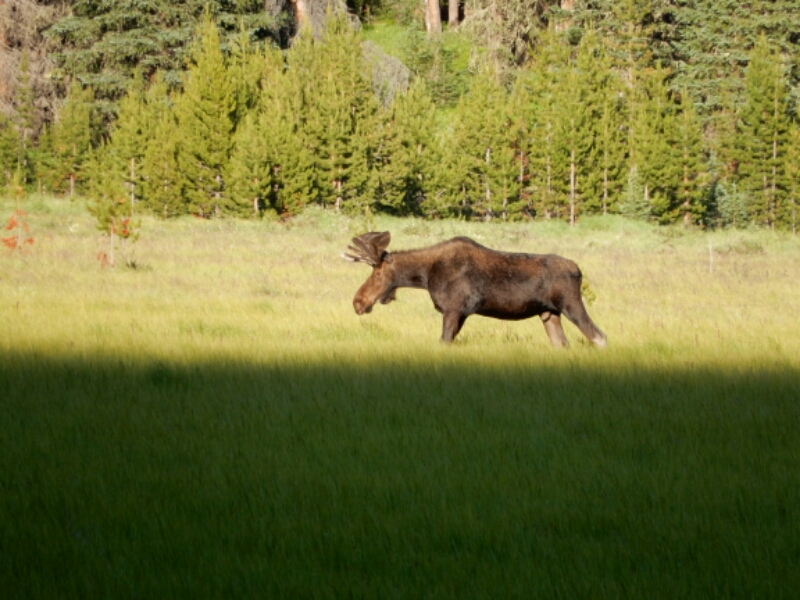 Above: My first sighting of a moose in Big Meadow during the descent from Flattop Mtn.
I did not realize how hard it would be to leave Cindy behind as I embarked on the remainder of my hike to Canada. I will not see her for over two months.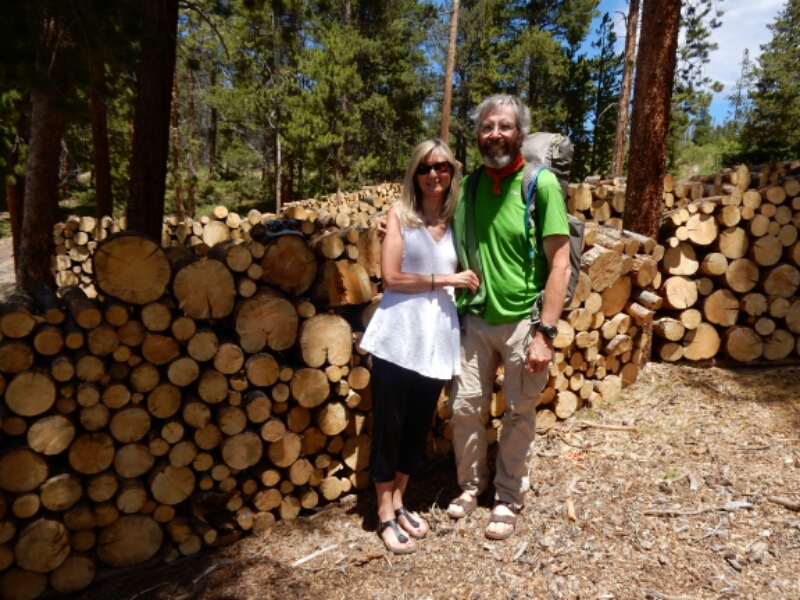 Above: At the cabin in Fraser before going back to the CDT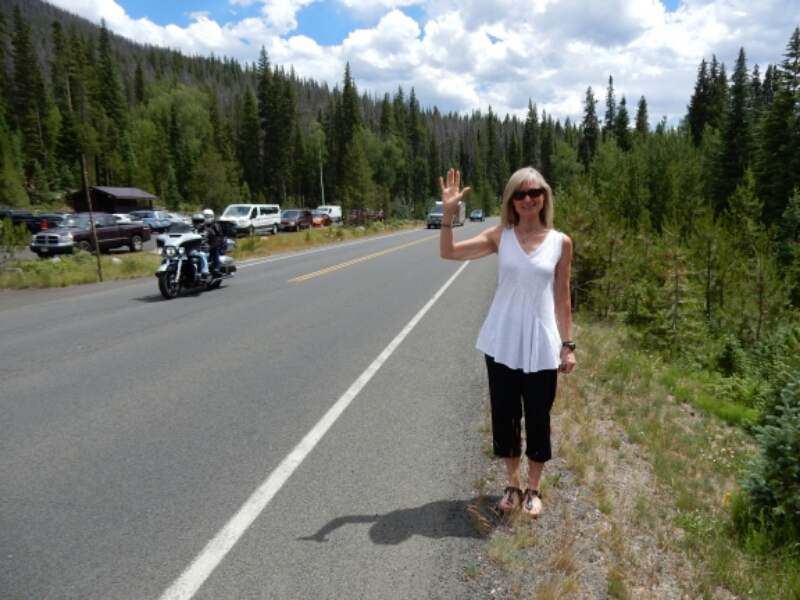 Above: Cindy waves goodbye until Glacier National Park and Waterton Park in Canada.
The parting weighed on my as much as the 5 days of food in my pack. Colorado was wearing me out, and I faced another 70 days and 1600 miles of CDT to hike. I felt weak and alone as I started a long, 3000 foot ascent to Bowen Pass.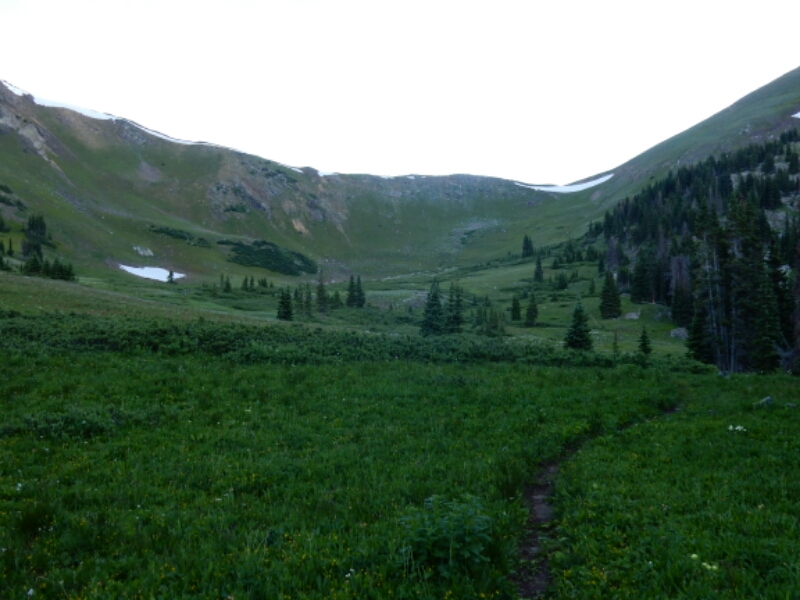 Above: looking toward Bowen Pass.
But I was not alone for long. Three moose were grazing on the trail, forcing me to politely detour above them in the early morning.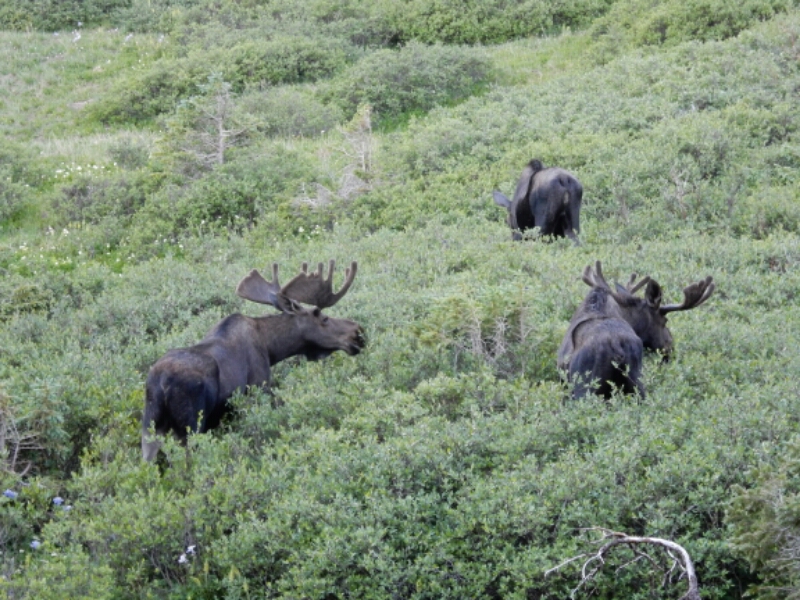 The moose encounter came after a cow and calf ambled through my camp in a brief, tense moment when I was unsure how forcefully the mother moose would defend the calf. Both moose proceeded without incident while I sat still in my tent.
The biggest challenge of the 76 mile section was a climb to Parkview Mt., the last 12000 foot point on the CDT. I felt relief to know the landscape would ease up a bit and I would not experience so many stressful miles on my mind and body. In the interest of time available to write more I will resume those thoughts after I reach my next town stop and zero day in Rawlins, Wyoming. I hope to rock the trail with bigger miles in Wyoming!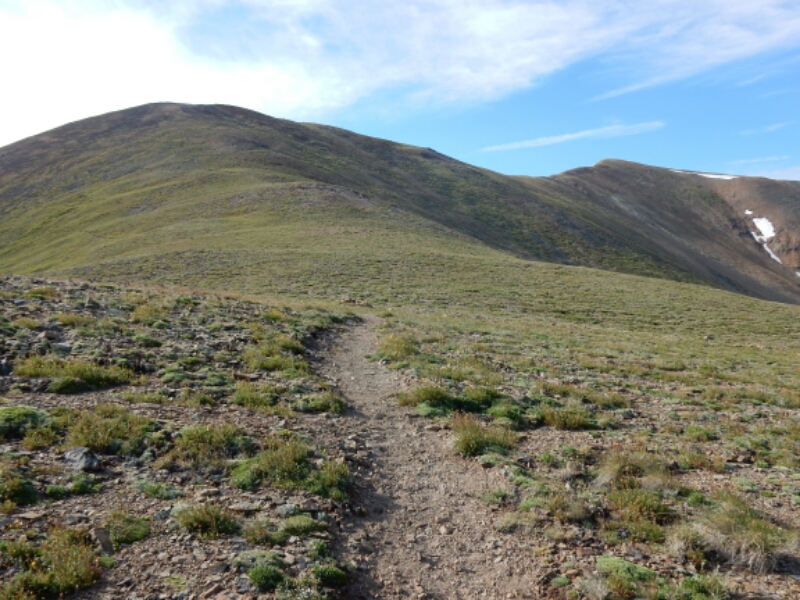 Above: Approaching Parkview Mountain.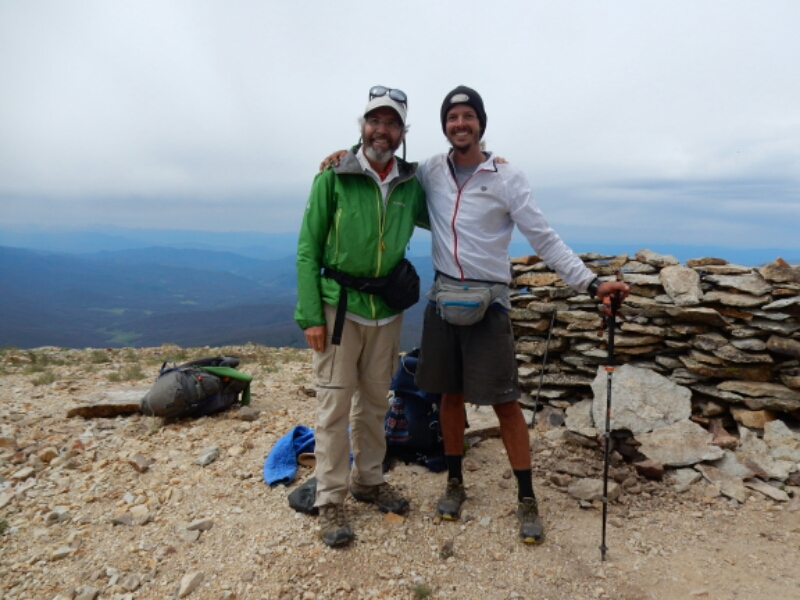 Above: Karate Kid found me on the summit!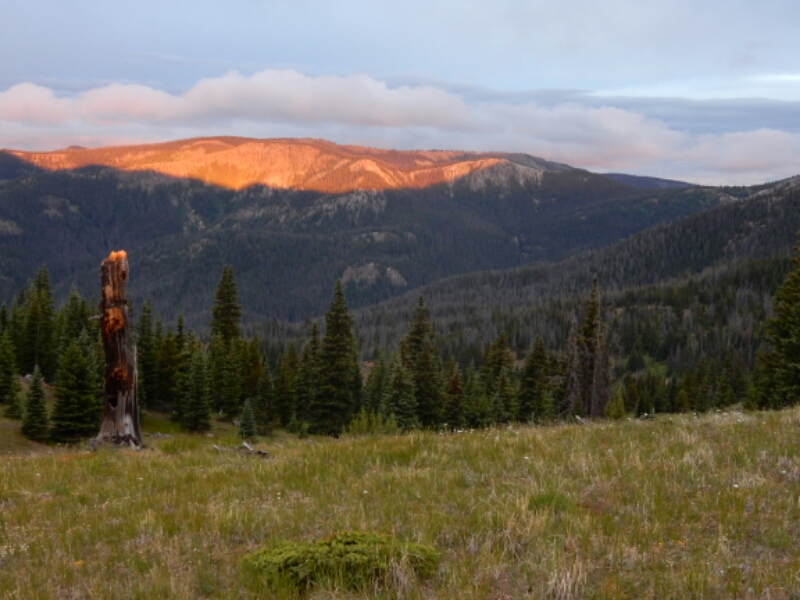 Above: Sunrise on the Rabbit Ears Range.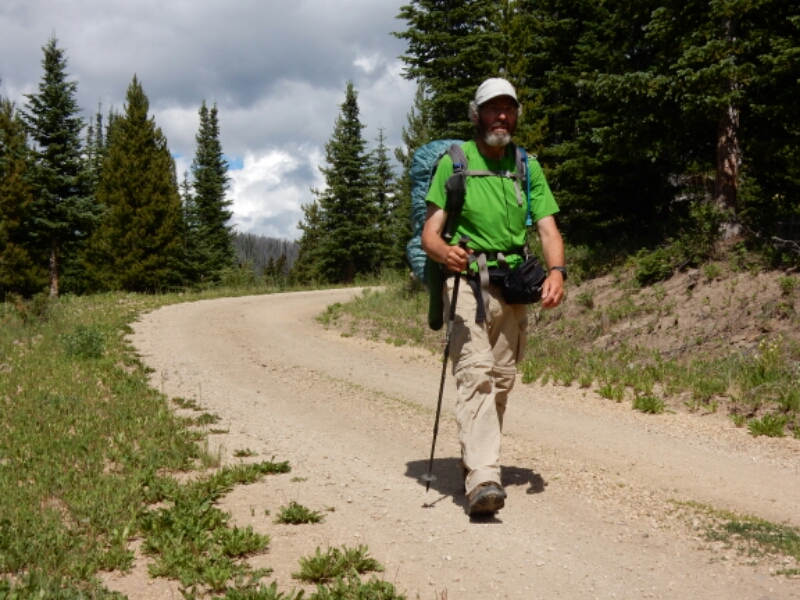 Above: A long but easy road walk toward Rabbit Ears Pass and Steamboat Springs.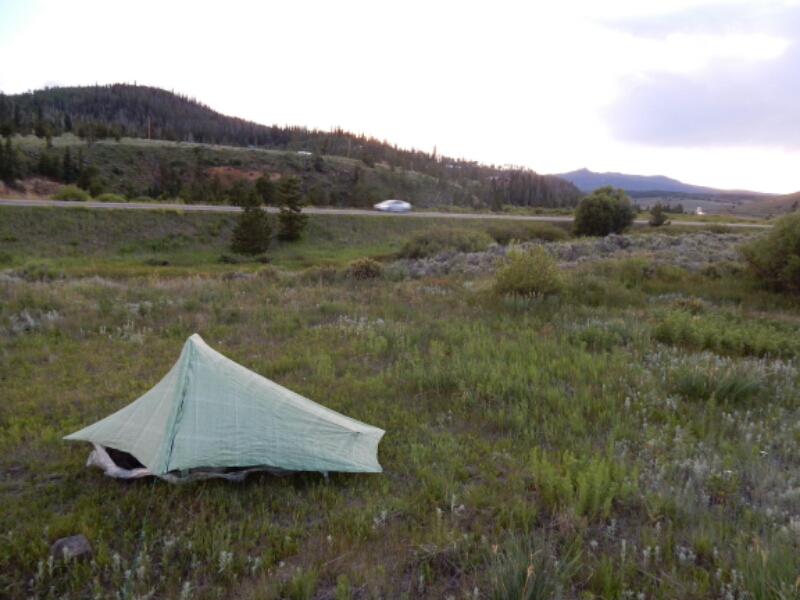 Above: While walking along highways I cannot always be picky about campsites!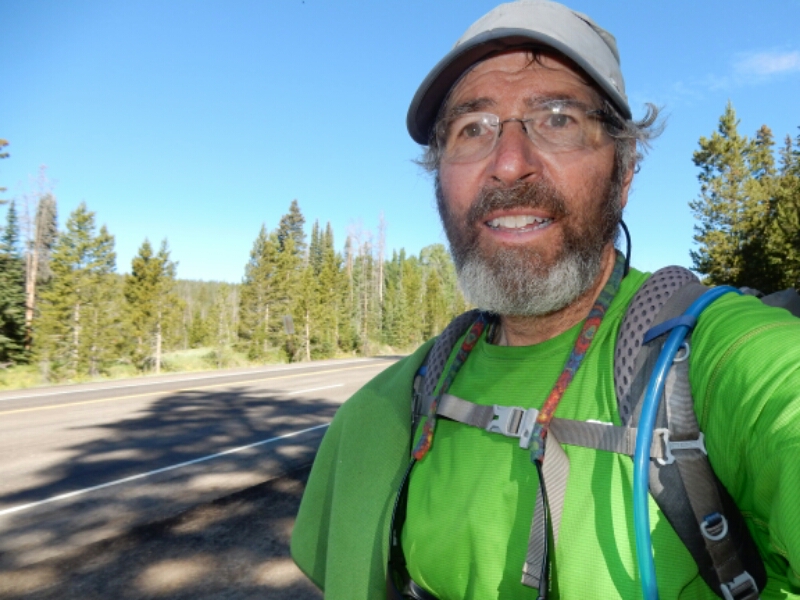 Thanks to Melanie who gave me a ride to Steamboat Springs, and to friend Scott Larson of the Steamboat Springs Chamber of Commerce who drove me back to the trailhead!