A BETTER WAY NORTH. When I departed Lima, Montana, where I restocked my pack with six days of food, I was feeling well except for a new injury to my left foot. Two toes were numb and intense pain would occur occasionally. Thankfully my left knee appears to be healed at least for now, but the foot pain was pretty bad and slowed me down. On August 30, the second day on the CDT since leaving Lima, was a real downer. I was motivated more to stop and rest rather than hike northbound toward the next town, Leadore, Idaho.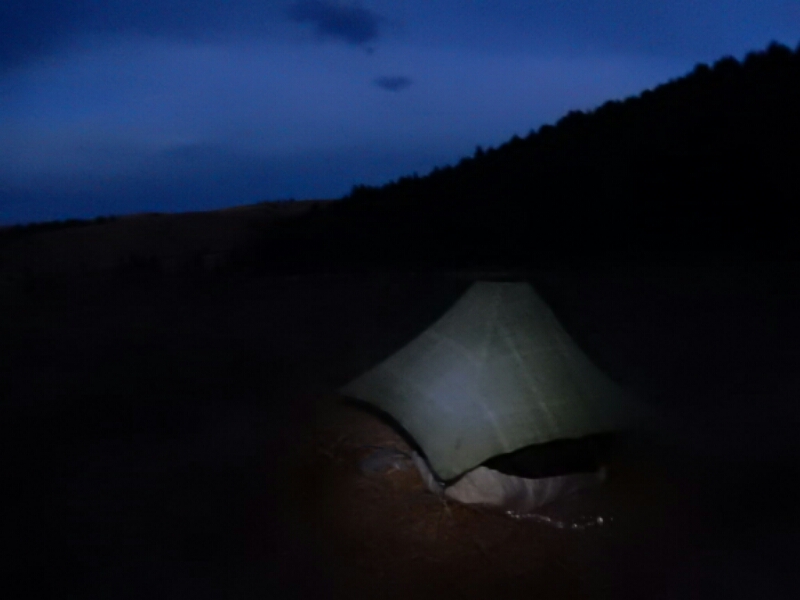 Above: my camp at Sawmill Creek after a painful 10 mile day.
After taking a hard fall on the trail, and subsequently struggling to hike at a desirable pace, I decided the original plan through Montana would not get me to Waterton Park in Canada soon enough. Drastic changes were necessary to allow my foot injuries to heal. The mellow roads in the Great Divide Basin helped the torn meniscus in my knee recover. Would more road walking help the feet? It was worth a try, and at a camp I set up mid-afternoon on August 30 at Sawmill Creek I created a road-walk route to Anaconda that I estimated to be 154 miles after leaving the official route at Bannock Pass. Using my Garmin GPS unit I created a route along Forest Service roads, then along highways through the Pioneer Mountains, the village of Wise River, along the Big Hole River and into Anaconda.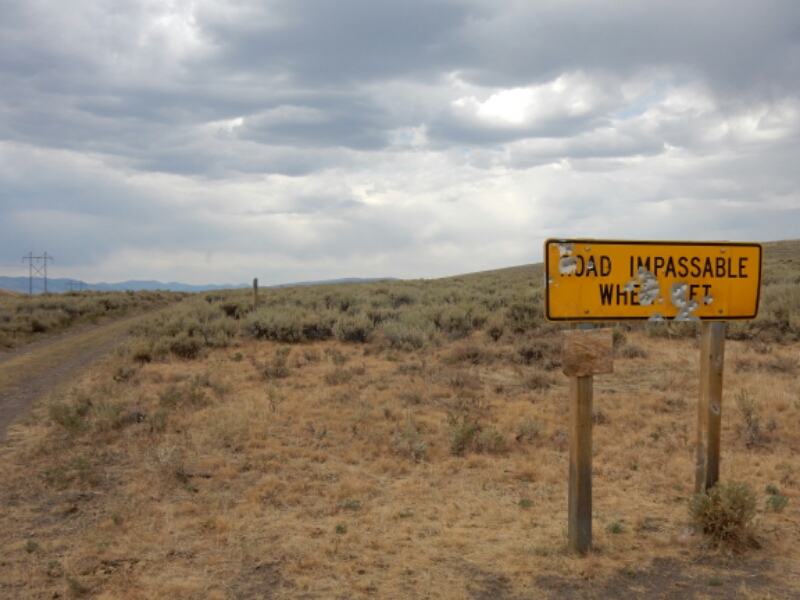 Above: leaving the CDT at Bannock Pass and the start of 154 miles of roads.
I had mixed feelings about my revised route. I wanted to see Lemhi Pass where Lewis and Clark first crossed the Continental Divide, and hike the Anaconda Pintlar Wilderness for the first time since 1998. But Canada is my ultimate goal. My Anaconda Super Cutoff Route, as I named it, would cut nearly one week of hiking and speed my way to Canada by one week. This, hopefully, will help me avoid an early season snow storm that could knock me off the CDT before reaching the Canadian border. Moreover, when I arrive in Anaconda I would expect my feet to be pain-free.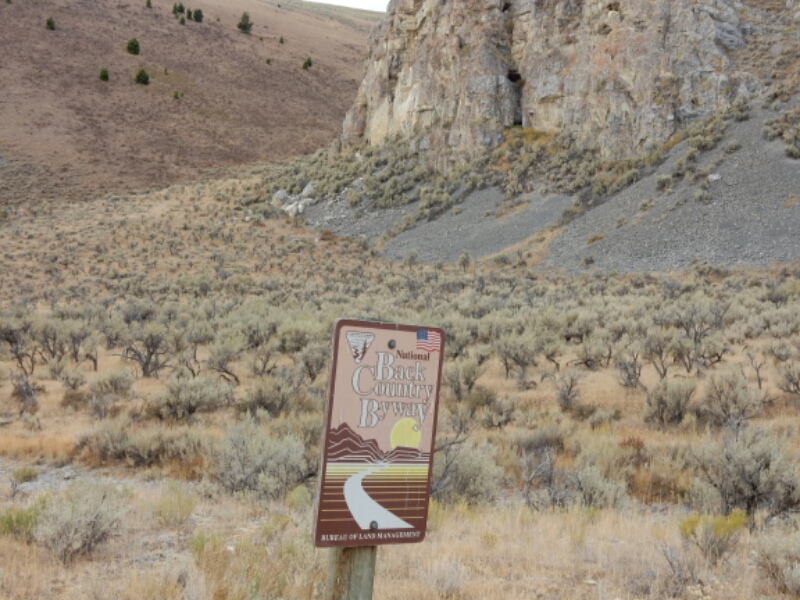 Above: the first stage of my Anaconda Super Cutoff followed the Big Sheep Scenic Byway.
On August 31, the first day of my Anaconda Super Cutoff (ASC), I completed 16 miles of the CDT before descending the Forest Service road to a sagebrush camp at 6870′, and set up the tent before the wind and rain started. On Day 2 of ASC I was concerned with water because I had no information about how generously flowing the streams and creeks would be.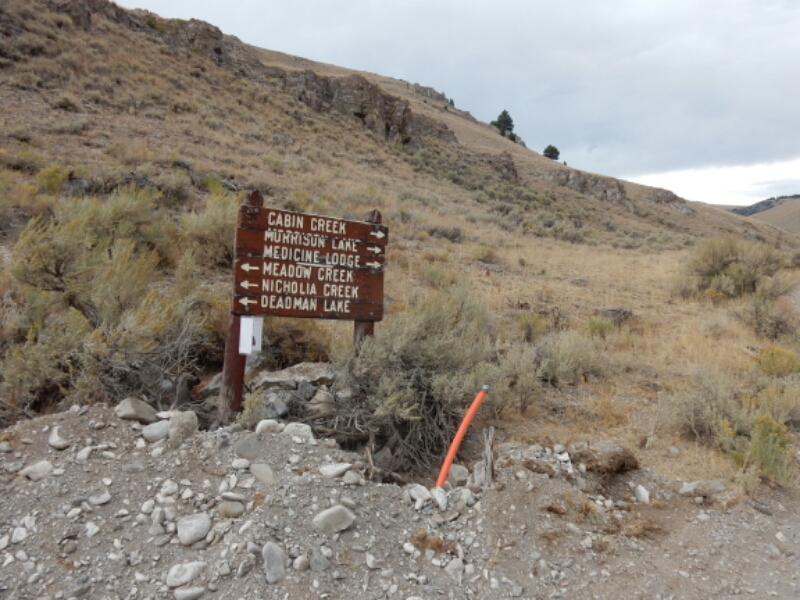 Above: the sign pointed to water sources, but it was no guarantee there would be water in them.
Thankfully, I came across a nice spring next to a cattle rancher's cabin along the road, and some streams still had water despite the persistent dry conditions in this part of SW Montana. Meantime, my left foot was very painful at times, especially at the end of the day. I was worried, and began considering placing an order for new footwear that could help me get to Canada.
By Day 3 of ASC I was concerned about my limited food supply. My first choice was to hike to Wisdom, a trail town east of the CDT, but another route through the Pioneer Mountains Scenic Byway would be, well, more scenic. I was rationing food and feeling skinnier as I pressed forward.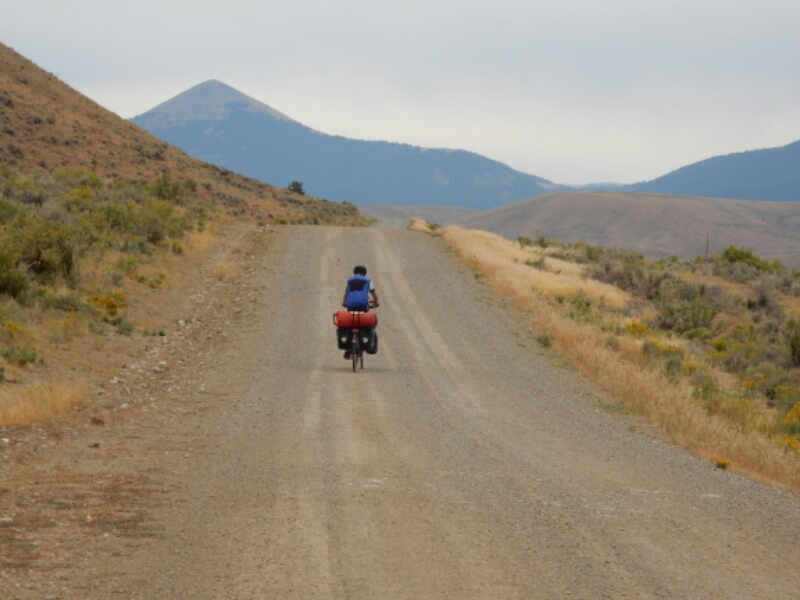 Above: one of the many cyclists I enjoyed talking to and providing valuable information about my route to Anaconda.
It was a pleasure to meet cyclists on the roads. Most of them had ridden through areas I was planning to walk through. I asked mostly about anything to do about food: grocery stores, cafes, etc. One cyclist even insisted on giving me some. How generois. Others had amazing stories of their cycling. One Japanese man was pedaling all the way to Peru.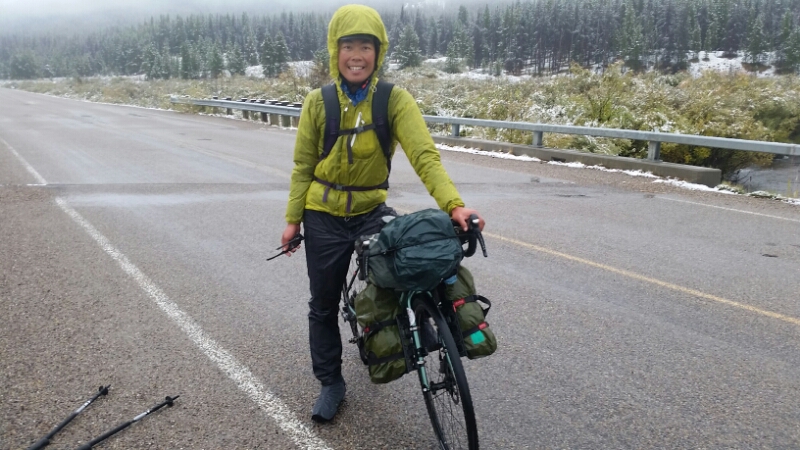 Above: the young man from Japan cycling to Peru.
On September 3, after hiking 30 miles (no foot pain!) I arrived in the small village a few miles north of Polaris in the Pioneer Mountains. The Grasshopper Inn had a great restaurant, and Ma Barnes General Store.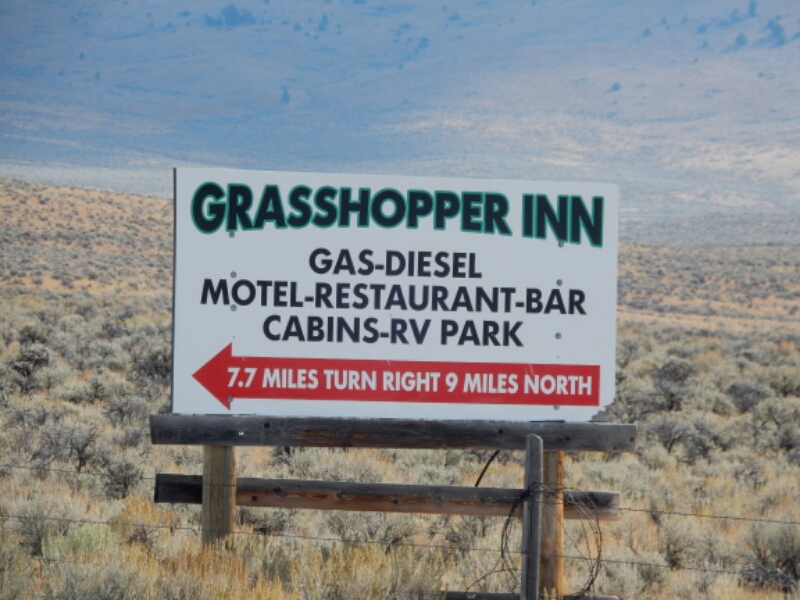 Above: My favorite road sign along the 154 mile Anaconda Super Cutoff route.
After filling my body and backpack with calories I left the scenic valley and climbed along the forested road to 7500″ elevation, which was well above the forecasted snow level for that night. I pushed ahead to reach a Forest Service campground until 9 pm in darkness, set up camp very quickly in the increasing rain, and settled in with one of the meals I bought from Ma Barnes. In the morning, I woke to w inches of snow! I could only wonder what my CDT friends on the trail at higher elevation were going through.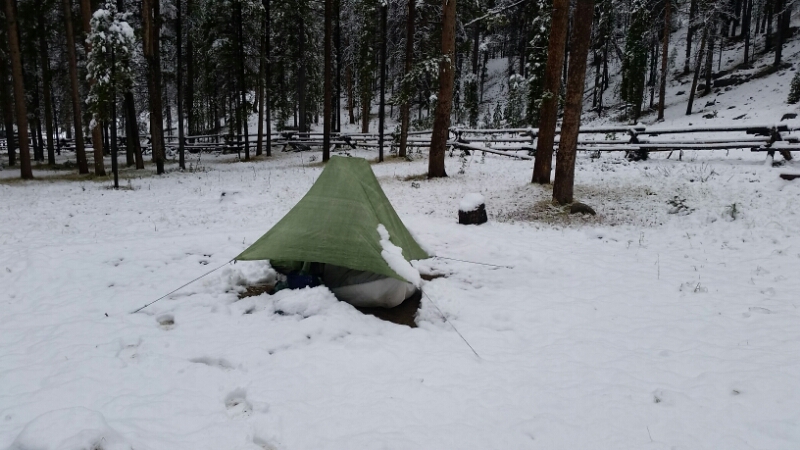 Above: At the Mono Creek Campground the morning of September 4.
I continued north along the Pioneer Mountains road, stopping in Wise River for more food, and arrived in Anaconda two days later on September 7. Along the way I met many nice people, viewed some of the best scenery in SW Montana, and ate some nourishing, tasty food. Even better, my foot pains and knee felt healed, and I felt the strongest since the day I fell on the mountain bike freeway trail north of Breckenridge, Colorado and injured the knee. Hiking the Anaconda Super Cutoff route was a compromise, but as a strategy to heal my body and speed my eventual arrival in Canada, it worked! It was a good example of being flexible and making changes necessary to achieve my ultimate goal of hiking across the Canadian border. Again, when the dragons appeared I laughed and moved forward. In this case, on a 154 mile route I named the Anaconda Super Cutoff.
More photos of the ASC: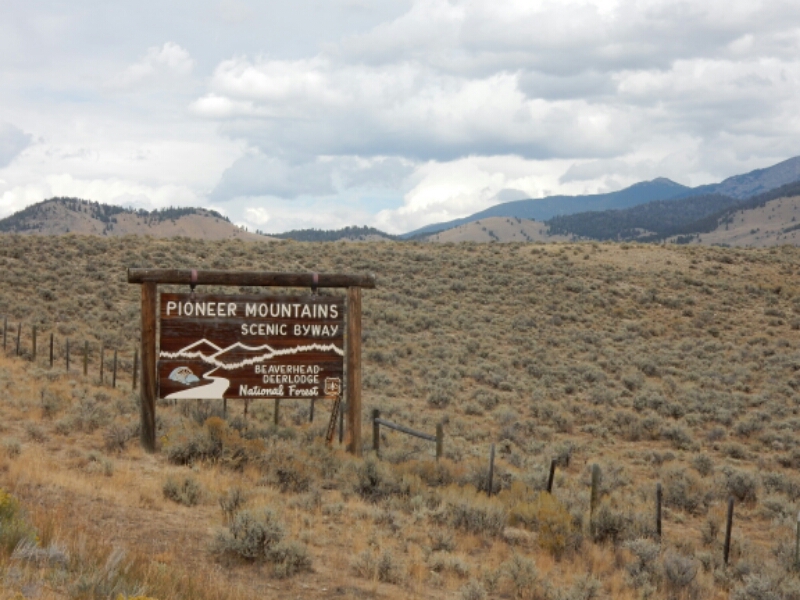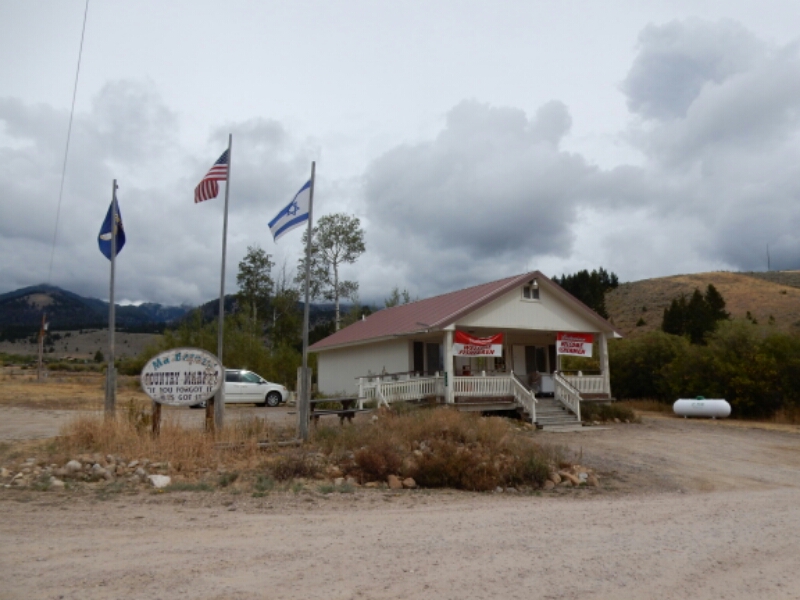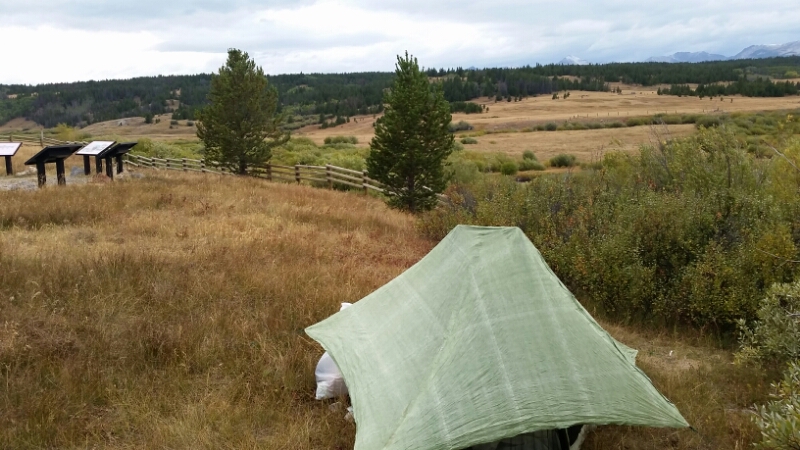 And of course, GREG IN WILD HIKES ON!