THE CDT JOURNEY IS COMPLETED!
On October 3 at 1:30 pm I hiked to the US/Canada border at Chief Mountain with fellow thru-hikers Petr Kosek (Footprint), Olga Kubankova (Stormrunner), both from Czech Republic. My lovely wife and caring, unwavering supporter Cindy Kleinegger (Snake Maiden) met us for the final three miles!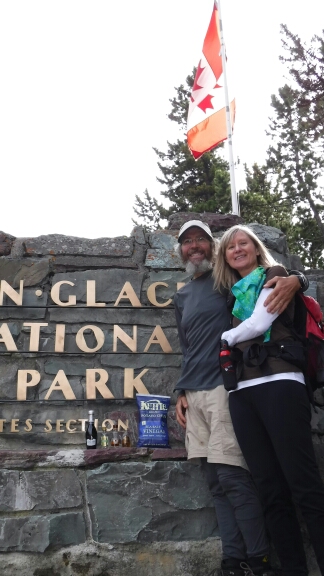 We enjoyed six amazing days hiking the CDT in Glacier National Park, blessed with sunny weather most of final 95 miles.
Before getting back on the CDT in East Glacier Park, the last resupply town, I knew the weather could bring rain and/or snow. Additionally, the grizzly bear population is pretty high in GNP. Hiking solo, like I was since the middle of Colorado in late June, was not the best way to hike those final 95 miles. Footprint and Stormrunner hiked swiftly to catch up to me one week prior to arriving in East Glacier. Teaming up with them seemed natural and fun to me, and hiking to the border while enjoying the company of other thru-hikers was a positive contrast to those many previous miles of solitude. It was a very good decision!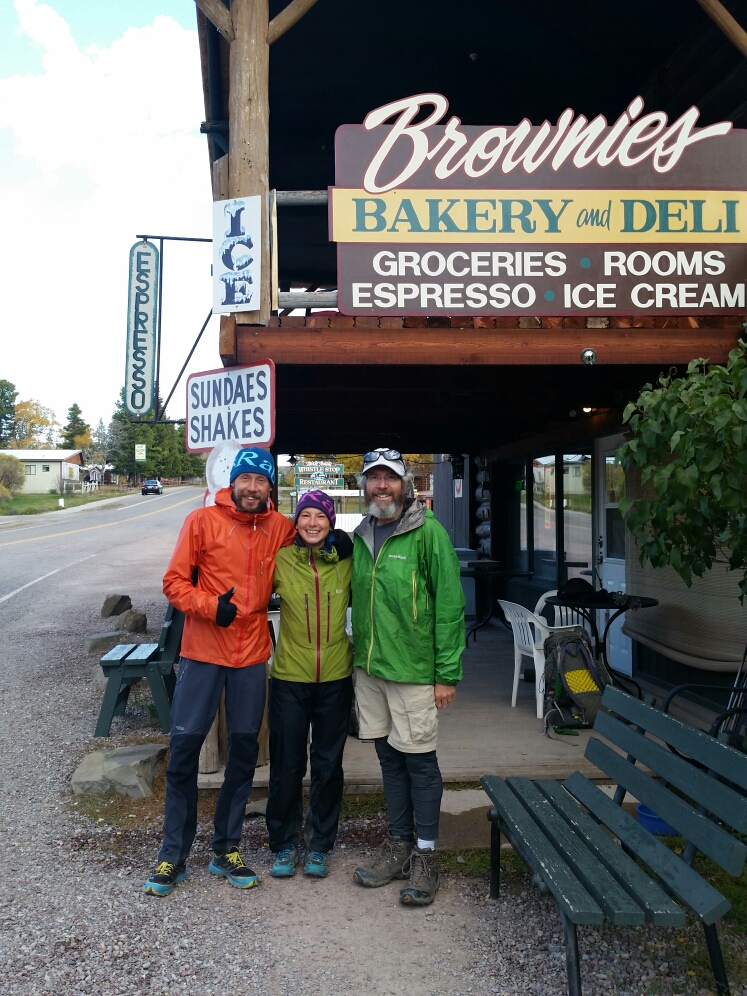 Above: Footprint, Stormrunner and Greg In Wild at Brownies Hostel in East Glacier before rejoining the CDT in Glacier NP.
The first day out of East Glacier was an easy-going 11 miles to the Two Medicine campground, where Snake Maiden joined us and camped with me that night. Best of all, she brought pizza, beer and fudge! What a great evening!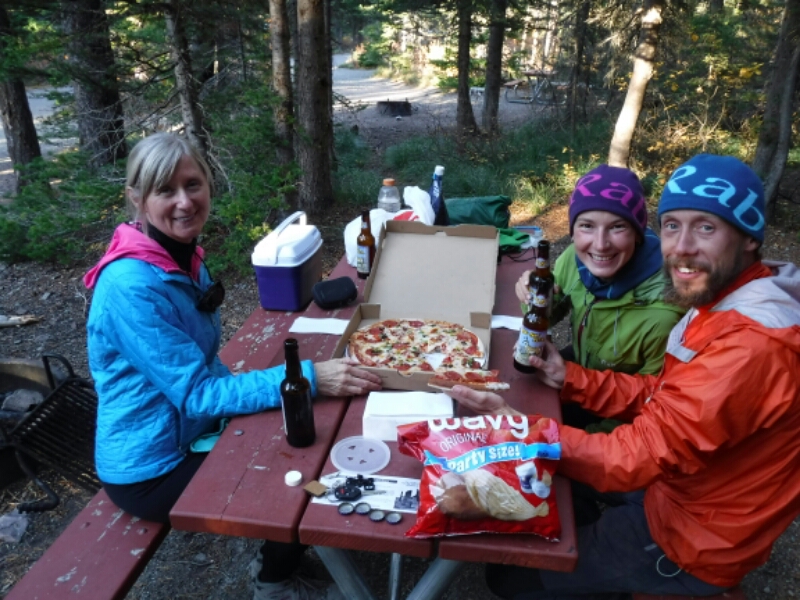 The summer-like weather on day two on September 29 had me so grateful as we enjoyed every step of the 14 miles over Pitamakan Pass to Atlantic Creek campsite. Footprint, Stormrunner and I were surprised to find numerous ripe huckleberries near Oldman Lake, where the campsite was closed because a grizzly and two cubs were hanging out. Surprisingly those three bear had left some huckleberries for us to enjoy.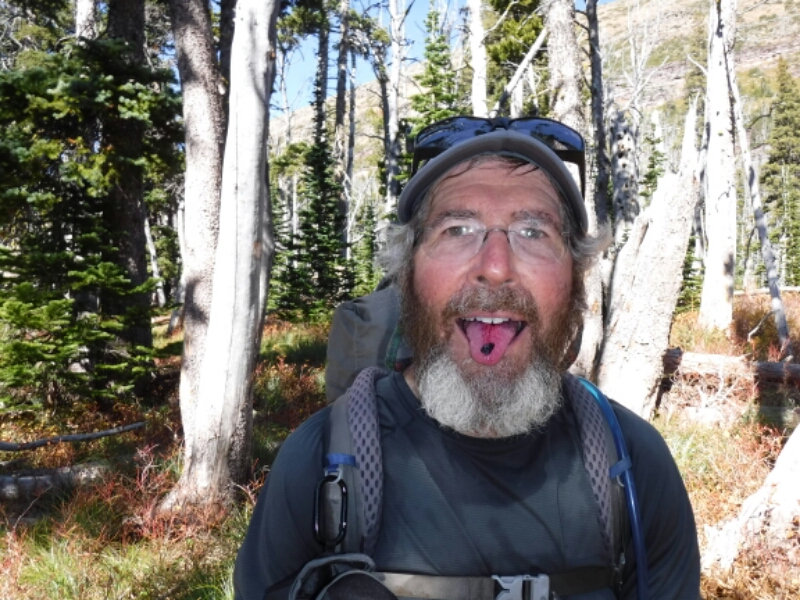 Above: huckleberry tongue!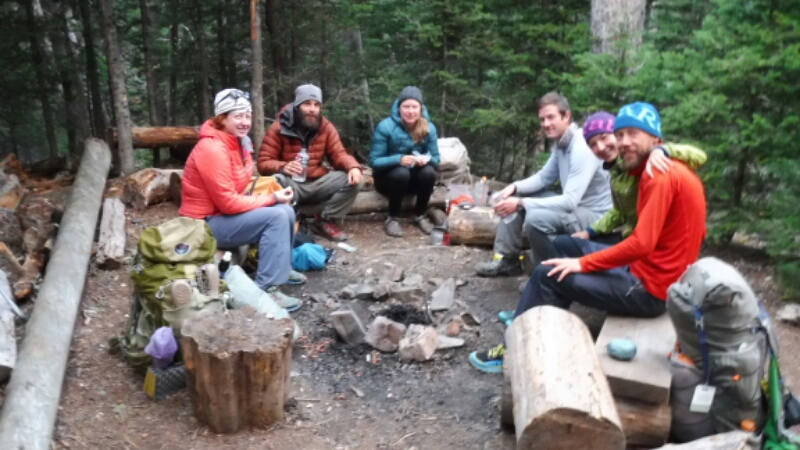 Above: in the food prep area at Atlantic Camp are Chocolate Chip Monkey, Paperweight, Sas, Crocs, Stormrunner and Footprint.
The most challenging day was September 30, which started with a rain shower but cleared up in time for us to begin a 25 mile hike to the Reynolds Creek campsite. A morning 2000 foot climb to Triple Divide Pass was the only significant ascent for the day, although rain threatened to fall any time.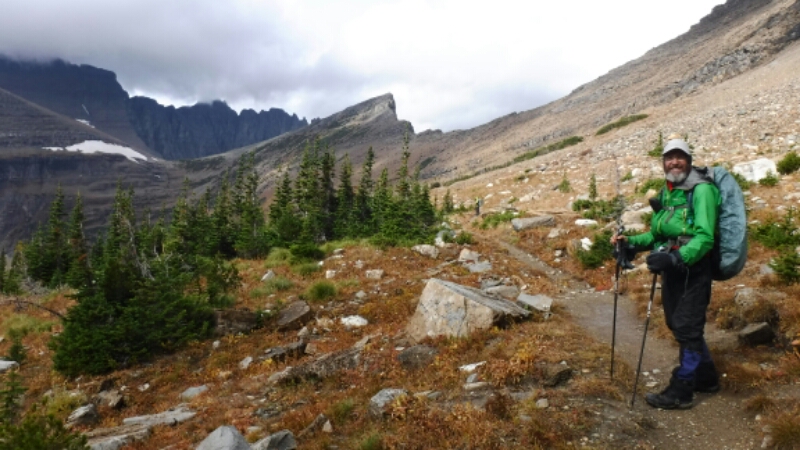 Above: ascending Triple Divide Pass.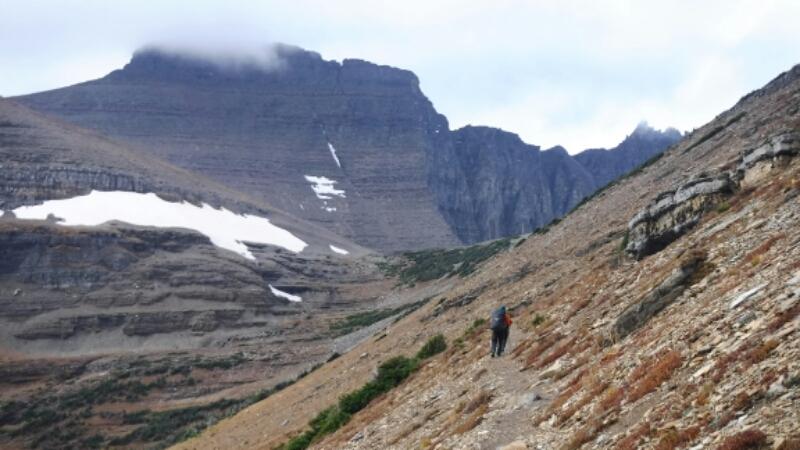 Above: clouds linger near Triple Divide Pass.
We arrived at the Reynolds Creek campsite at 8 pm, in the dark after fording the creek (in the dark!). My reward was a large, hot dinner and good chocolate for desert.
On October 1 the weather forecast called for rain, but the wet weather held off until the afternoon. Footprint, Stormrunner and I had another camp with Snake Maiden to look forward to…this time at the Many Glacier campground.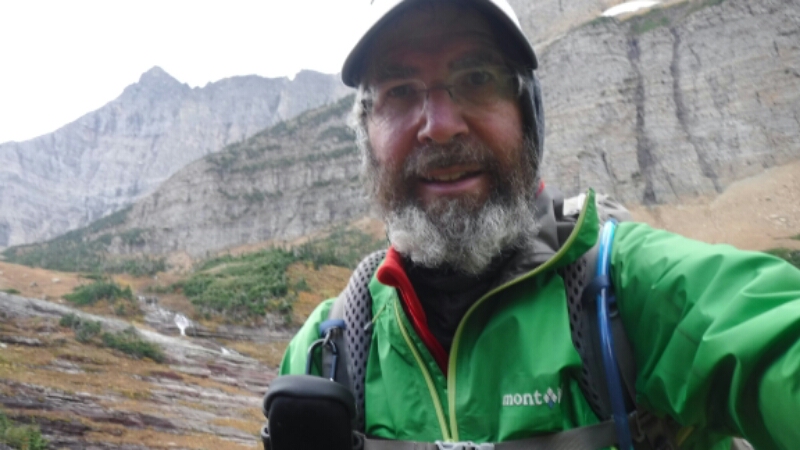 The weather turned progressively colder and the rain fell steadily most of the afternoon until arriving at Many Glacier, where Cindy smartly brought a bundle of firewood to keep all of us warm while we set up camp, ate food and drank wine. The fire saved the evening and we talked about the final, upcoming two days of our journey.
On October 2, while hiking, I thought of the most meaningful moments, places, challenges and accomplishments of the 169-day hike. But I will write about those in more detail in about one week. Prior to starting the CDT hike I dedicated my journey to two very important people.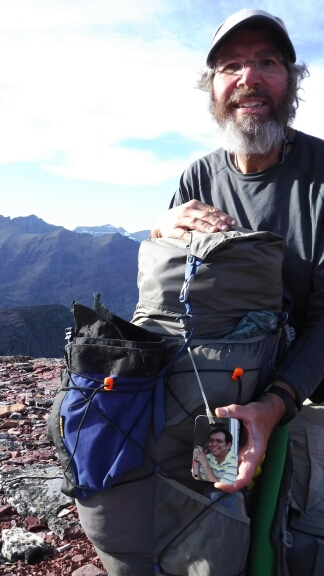 My big brother Jim, who had developed lymphoma and was diagnosed in September 2015 while I section-hiked the CDT in the San Juan Mountains. I carried a tag with a picture of Jim (above).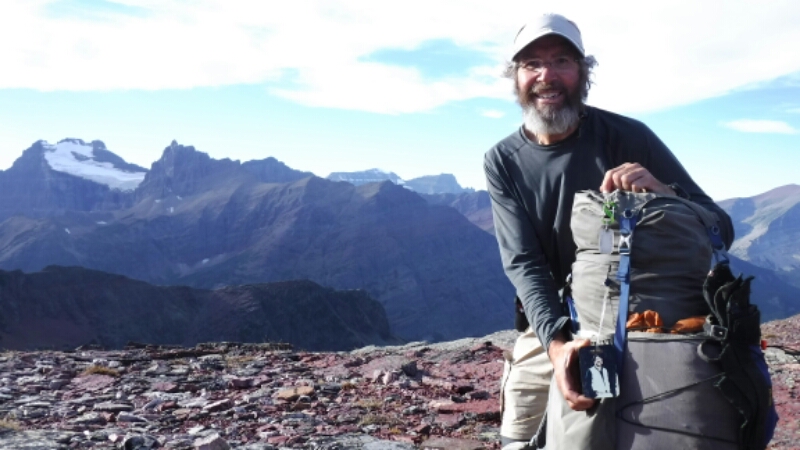 Additionally, I also dedicated my hike to long-time friend David Dicesare, who accompanied me on my first ever backpack trip in 1980 on the Olympic NP coast. I carried a tag with David's photo, too.
When I experienced some pain, discomfort or doubts about making it to Canada, I thought of Jim and David, and found eniugh strength to keep moving northbound, making key decisions to enable some injuries to heal. Maintaining a positive and optimistic attitude, in the way Jim and David often demonstrated, was a big reason I could reach the Canadian border on October 3!
The final two days and 27 miles of my thru-hike were amazing. I could only feel gratitude for the ideal Indian summer conditions. Wildlife appeared any times during those days, a good omen in my experience during important events in my life. A moose, an eagle, a grouse that walk by my side, a black bear, and nearly-tame deer greeted my and my Czech hiking partners.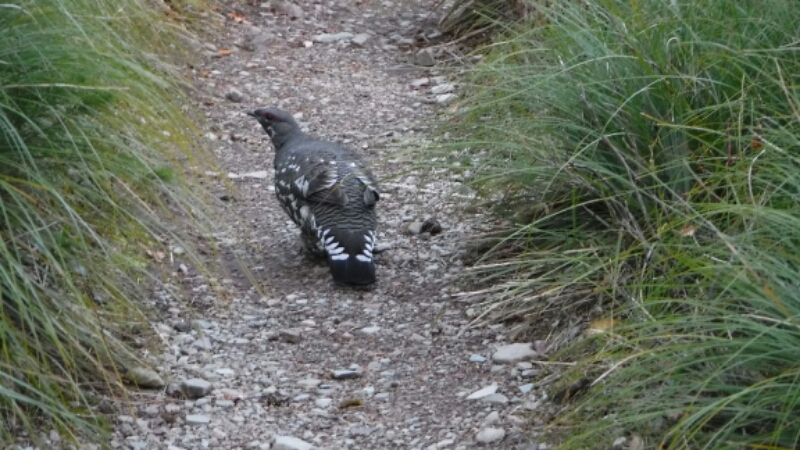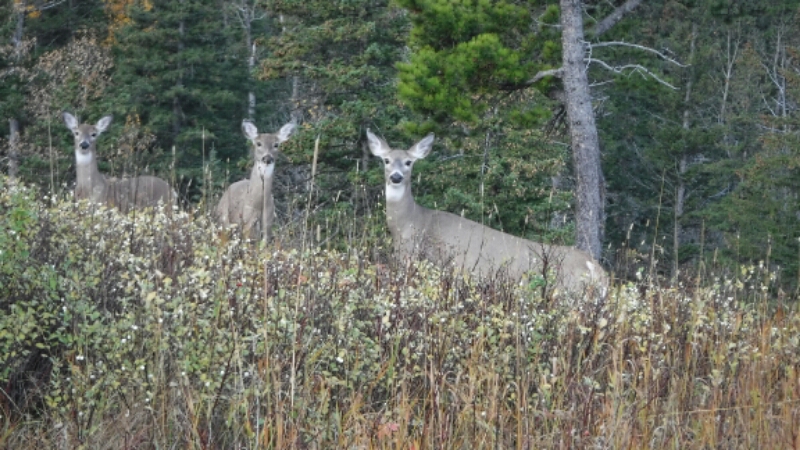 In camp on the last evening before reaching the border, Stormrunner told me a rabbit meandered into the food prep area at our campsite. Similarly, a rabbit visited my camp in 1996 on the eve of completing the Pacific Crest Trail. They all seemed to represent important people in my life, alive and departed, wishing me well in the days after the hike. None of those animals seemed afraid, except for the bear, and lingered for what seemed many minutes.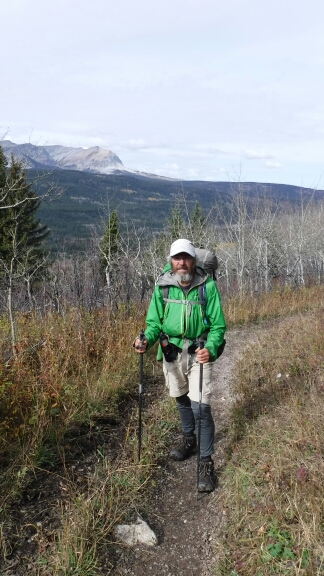 Above: on day 169, October 3, just before Snake Maiden's surprise arrival on the trail!
I will post more scenic photos of the last few days of the hike later.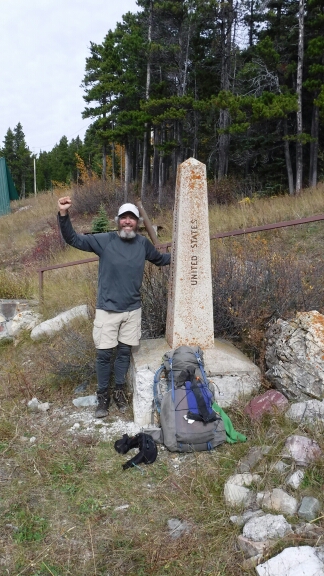 GREG IN WILD HIKED ON!
CDT MEXICO TO CANADA, APRIL 18 TO OCTOBER 3, 2016
– Roger Carpenter
Updated on 10-06-2016 to post on Facebook